How to get a Canadian Permanent residence visa?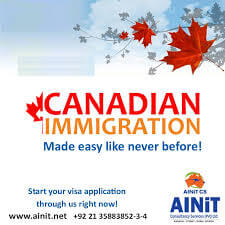 Canada is one of the top choices countries when bearing in mind immigration options. With high quality of life standards, good salaries and plenty of employment opportunities, it is no wonder that so many people from overseas have expressed an interest in coming to live and work in the country. If you are interested in Canada Immigration, you will need to know how to get Canadian permanent visa. Here we will look at eligibility criteria, the application process and the point's requirement to enable you to determine whether or not you will be successful.
Eligibility criteria for Canada Immigration
In order to be eligible to apply for a Canadian PR visa, you will need to obtain no less than 67 points under the current assessment system. These points are calculated over a number of factors including age, language skills and qualifications. Here are some of the categories that are assessed and you must have no criminal record and must be in good health, consenting to a medical examination if required.
Age
Depending on your age at the time of application you can be awarded a maximum of 12 points. This maximum total will be awarded if you are aged between 18 and 35 with the fewest points awarded to those under 18 or aged over 35.
Education
The maximum number of points that can be awarded for educational qualifications are 25. You will be awarded a different number of points depending on how qualified you are – for example you will be given maximum points if you have a PhD you will gain maximum points or Master's degree you will gain 23 points and for Bachelor degree you will gain 21 points.
Work experience
In order to be eligible to apply for a Canadian permanent residence , you will have to either have an existing job offer from an eligible Canadian employer or you will have to already have skills and experience in one of the employment sectors rated O, A or B featured on the NOC (National Occupational Classification) list. You must have a minimum of one year's full time work experience in one of these occupations in order to be eligible; however you will be awarded more points for a longer period in a skilled employment category. For four years or more within the industry you can gain a maximum of 15 points.
Language
You can be awarded up to 24 points if you are fluent in English. Those points based on International English Language Tasting System (IELTS) score. Minimum 6 band required in IELTS to get Canadian Residence Permit. If you are able to get above 7 band you can award maximum points. The International English Language Tasting System consists of 4 modules Reading, Writing, Speaking and Listening.
Adaptability
You can gain up to 10 points depending on whether you are coming to the country with a spouse who has good educational qualifications or who has already had study or work experience in Canada.
Funds required
Once you have determined that you have more than 67 points, you must meet the financial requirement to emigrate. This means that you will need a minimum of around CAD$14,000 as a single person from the date of receiving ITA (Invitation to Apply), and the amount increases on a sliding scale depending on how many dependents you intend to bring with you.
How to processes?
If you meet all of the above criteria you are eligible to make an application to the Canadian government for a permanent residence permit. Process consist 4 stages
Stage 1:
In initial stage you need to submit your education credential to WES(Word education system) it's calculate CGA points and sent report within 4-5 weeks for this process WES charge approximately 320 CAD$. Once receive report you are eligible to Express Entry.
Stage 2:
In second stage you need to fill and submit required credentials to Job Bank. Once you receive the invitation to apply for PR you need to submit all your credentials to CIC (Canada Immigration Citizenship) with in 8 weeks, along with that you need to pay 550 CAD$ for each primary applicant and spouse for each kids 150 CAD$.
Stage 3:
In stage 3 once you submit the all documents to case office will assign your case and he verify all the documents once everything is clear then he will ask you to get Medical reports and PPC(Police Clearance Certificate). Once you get the documents you need to paly landing tax approximately 490 CAD$ for primary applicant and suppose for kids no landing fee
Stage 4:
Once you done all thing you need to send passport to CHC or you can directly go to office and get visa stamp. One visa stamp done within 6-12 months you are eligible to make your first entry to Canada.
Don't forget to check your eligibility if you are interested as the assessment is absolutely free of cost. Please fill out the assessment form and one of our Expert Immigration Consultants will get back to you at the earliest.