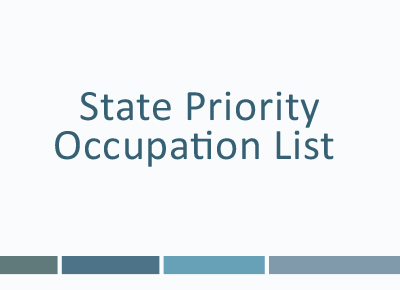 Government of South Australia announced new STATE NOMINATION OCCUPATIONS LIST – List current as of 4th July 2017
The following list is available to all applicants, including international graduates of South Australia. Please review the following Occupation list before applying.
International graduate of South Australia, can also review the following Occupations List:
Please note that additional occupations are available on the Supplementary Skilled List. These occupations are only available if you meet the additional requirements.
ANZSCO
Code
Occupation
121213
Fruit or Nut Grower
121214
Grain, Oilseed or Pasture Grower (Aus) / Field Crop Grower (NZ)
121215
Grape Grower
121221
Vegetable Grower (Aus) / Market Gardener (NZ)
121312
Beef Cattle Farmer
121317
Mixed Livestock Farmer
121321
Poultry Farmer
121322
Sheep Farmer
121411
Mixed Crop and Livestock Farmer
ANZSCO
Code
Occupation
131112
Sales and Marketing Manager
131113
Advertising Manager
132211
Finance Manager
133411
Manufacturer
133512
Production Manager (Manufacturing)
133611
Supply and Distribution Manager
134212
Nursing Clinical Director
134214
Welfare Centre Manager
134299
Health and Welfare Services Managers nec
135112
ICT Project Manager
135199
ICT Managers nec
139911
Art Administrator or Manager
139913
Laboratory Manager
139914
Quality Assurance Manager
139999
Specialist Managers nec
14 Hospitality, Retail & Service Managers
ANZSCO
Code
Occupation
141111
Cafe or Restaurant Manager
141999
Accommodation and Hospitality Managers nec
149212
Customer Service Manager
149913
Facilities Manager
22 Business, Human Resource & Marketing Professionals
ANZSCO
Code
Occupation
223211
ICT Trainer
224213
Health Information Manager
224214
Records Manager
224711
Management Consultant
224712
Organisation and Methods Analyst
23 Design, Engineering, Science & Transport Professionals
ANZSCO
Code
Occupation
232214
Other Spatial Scientist
232311
Fashion Designer
232312
Industrial Designer
234111
Agricultural Consultant
234112
Agricultural Scientist
234213
Wine Maker
ANZSCO
Code
Occupation
241111
Early Childhood (Pre-Primary School) Teacher
241511
Special Needs Teacher
ANZSCO
Code
Occupation
251214
Sonographer
252111
Chiropractor
252411
Occupational therapist
252611
Podiatrist
252711
Audiologist
252712
Speech Pathologist
253914
Ophthalmologist
253917
Diagnostic and Interventional Radiologist
254111
Midwife
254412
Registered Nurse (Aged Care)
254413
Registered Nurse (Child And Family Health)
254414
Registered Nurse (Community Health)
254415
Registered Nurse (Critical Care And Emergency)
254416
Registered Nurse (Development Disability)
254417
Registered Nurse (Disability And Rehabilitation)
254418
Registered Nurse (Medical)
254421
Registered Nurse (Medical Practice)
254422
Registered Nurse (Mental Health)
254423
Registered Nurse (Perioperative)
254424
Registered Nurse (Surgical)
254425
Registered Nurse (Paediatric)
254499
Registered Nurse nec
ANZSCO
Code
Occupation
261111
ICT Business Analyst
261112
Systems Analyst
261212
Web Developer
261311
Analyst Programmer
261312
Developer Programmer
261313
Software Engineer
261314
Software Tester
262111
Database Administrator
262112
ICT Security Specialist
262113
Systems Administrator
263111
Computer Network and Systems Engineer
263112
Network Administrator
263113
Network Analyst
263211
ICT Quality Assurance Engineer
263212
ICT Support Engineer
263213
ICT Systems Test Engineer
263299
ICT Support and Test Engineers nec
27 Legal, Social & Welfare Professionals
ANZSCO
Code
Occupation
Additional Requirements
Skills Assessment Authority
272412
Interpreter
Competent English; Offshore applicants Provisional 489 visa only; Must have NAATI accreditation at minimum level of 'Professional Interpreter'; Research opportunities for your language specialisation
NAATI
272499
Social Professionals nec
Competent Plus English (or Proficient overall); Offshore applicants Provisional 489 visa only; Research opportunities for your particular specialisation
VETASSESS
272511
Social Worker
Competent English; 2 years work experience in field
AASW
272612
Recreation Officer
Competent English; Offshore applicants Provisional 489 visa only
VETASSESS
272613
Welfare Worker
Competent Plus English (or Proficient overall); Provisional 489 visa only; 2 years work experience in field; South Australian graduates must be currently working in their field in South Australia for the last 12 months
ACWA
31 Engineering, ICT & Science Technicians
ANZSCO
Code
Occupation
311111
Agricultural Technician
312211
Civil Engineering Draftsperson
312212
Civil Engineering Technician
312912
Metallurgical or Materials Technician
313111
Hardware Technician
313112
ICT Customer Support Officer
313113
Web Administrator
32 Automotive & Engineering Trades Workers
ANZSCO
Code
Occupation
321111
Automotive Electrician
321211
Motor Mechanic (General)
321212
Diesel Motor Mechanic
321213
Motorcycle Mechanic
321214
Small Engine Mechanic
322211
Sheetmetal Trades Worker
323211
Fitter (General)
323212
Fitter and Turner
323214
Metal Machinist (First Class)
323299
Metal Fitters and Machinists nec
323313
Locksmith
324111
Panelbeater
33 Construction Trades Workers
ANZSCO
Code
Occupation
331111
Bricklayer
331112
Stonemason
331211
Carpenter and Joiner
331212
Carpenter
331213
Joiner
332211
Painting Trades Workers
333311
Roof Tiler
34 Electrotechnology & Telecommunications Trades Workers
ANZSCO
Code
Occupation
341111
Electrician (General)
342111
Airconditioning and Refrigeration Mechanic
342311
Business Machine Mechanic
342313
Electronic Equipment Trades Worker
342411
Cabler (Data and Telecommunications)
ANZSCO
Code
Occupation
351111
Baker
351112
Pastry Cook
351311
Chef
351411
Cook
36 Skilled Animal & Horticultural Workers
ANZSCO
Code
Occupation
361311
Veterinary Nurse
362211
Gardener (General)
362212
Arborist
362213
Landscape Gardener
39 Other Technicians & Trades Workers
ANZSCO
Code
Occupation
393213
Dressmaker or Tailor
394111
Cabinetmaker
394213
Wood Machinist
41 Health & Welfare Support Workers
ANZSCO
Code
Occupation
411311
Diversional Therapist
411411
Enrolled Nurse
411711
Community Worker
411712
Disabilities Services Officer
411713
Family Support Worker
411715
Residential Care Officer
411716
Youth Worker
51 Office Managers & Program Administrators
ANZSCO
Code
Occupation
511111
Contract Administrator
511112
Program or Project Administrator
Source: South Australia Government website
Why to choose AINiT for Australian Immigration ?
AINiT specializes in General Skilled Migration and we have recruited thousands of skilled workers in Australia. Aftab Syed, Australian registered migration agent has hands-on experience over the immigration law system and along with his team he can provide you with diligent and professional information about immigration systems and assist you with your visa application. We have expertise to make a complicated system easy to understand for our client throughout the stages of the process so as to get you the best results.

For a friendly and professional advice please contact us at info@ainit.net or
visit our website: www.ainit.net ; Ph: +92 2135883852
Don't forget to check your eligibility if you are interested as the assessment is absolutely free of cost. Please fill out the assessment form and one of our Expert Immigration Consultants will get back to you at the earliest.